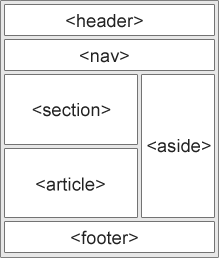 What is Semantic Markup?
Semantic HTML or semantic markup is HTML that introduces meaning to the web page, rather than just the presentation and visualization of the website. To actually see the difference between what syntaxes define the website, rather than just the design of the website, let's take a quick look at the bold tag, that bolds words or sentences in any elements. Such tags are not semantic, because they define only how the text should look (bolder), but they do not provide any additional meaning to the markup.
Why Care about Semantics?
For starters, you must understand that the driving goal of any web pages are the desire to communicate. As a developer/programmer, you want clean, organized, and consistent code. By adding semantic tags to your document, you provide additional information about that document. Semantics make it clearly to the browser and the machines what the meaning of the page and its content really mean.
Section 508-Accessibility
Before getting into the details, let's begin this discussion with what Section 508-Accessibility really mean. This is a Rehabilitation Act, as amended by the WIA (Workforce Investment Act) of 1998, which requires federal agencies to develop, maintain, and use Information and Communication Technologies (ICT) that is accessible to people with disabilities (even if they are not employees of the federal government). Section 508 requires federal agencies to make technology, online training (such as CBT's for jobs), and website accessible for everyone, which will allow employees with disabilities to do their work and have the opportunity to have access and training with the same resources as others.
SECTION 508, NEW REQUIREMENTS ADDED BY GSA ON 12/05/2017: There was an effort by the federal government to revise the standards of this section to create enhancements. Read more Here .
SEO-Search Engine Optimization
WHAT IS SEO? SEO stands for "search engine optimization." It is the process of getting traffic from the "free," "organic,"editorial" or "natural" search results on search engines.
All major search engines such as Google, Yahoo, Bing are integrated with SEO, where after you search a content, the most relevant information is shown based on what the search engine believe is most relevant and accurate. Here is a great visual of SEO success factor.